郭祥和 同學 榮獲 2018中華民國物理年會 優良海報獎
郭祥和 同學 榮獲 2018中華民國物理年會 優良海報獎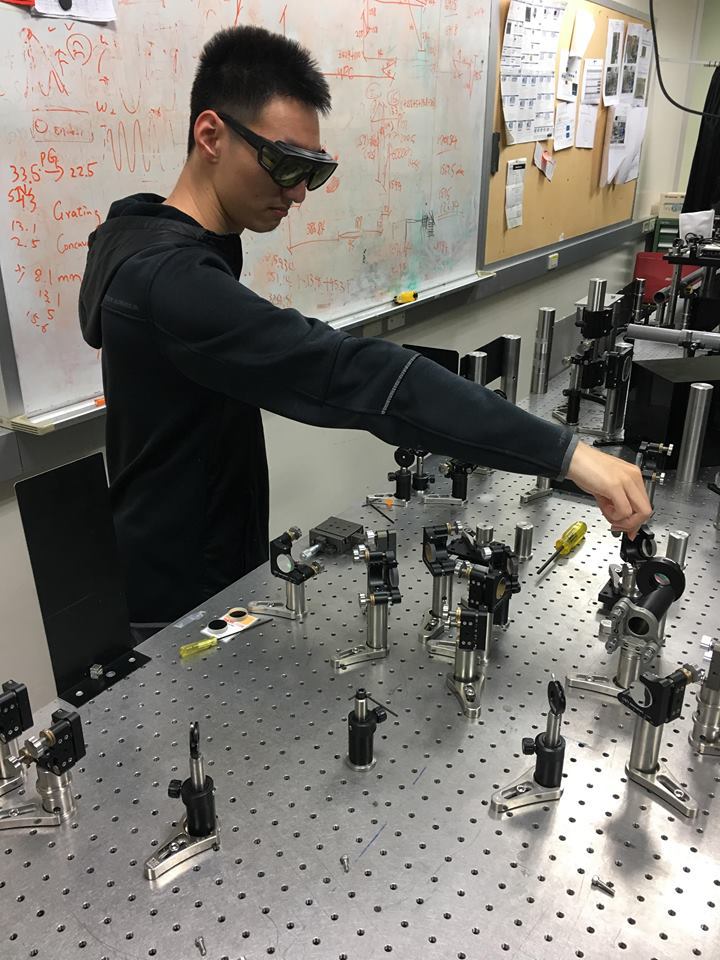 Generation of octave-spanning intense supercontinuum from Yb:doped solid-state lasers
Shiang-He Kuo1, Chih-Hsuan Lu1,2, Wei-Hsin Wu1,
Shang-Da Yang1, Ming-Chang Chen1, A. H. Kung 1,2
1Institute of Photonics Technologies, National Tsing Hua University, Hsinchu, Taiwan
2Institute of Atomic and Molecular Sciences, Academica Sinica, Taipei, Taiwan
* jay668520@gmail.com & sdyang@ee.nthu.edu.tw
We successfully generated sub-carrier-cycle pulse by two-stage multiple plate continuum (MPC) technique driven by diode-pumped Yb solid-state laser system (1 kHz, 170 fs, 1 mJ , 1030 nm). To the best of knowledge, this is the shortest pulse width generated by 1 m laser-based nonlinear pulse compressor. The sub-cycle white-light laser pulses are attractive for isolated attosecond pulse generation and time-resolved spectroscopy.
In the first MPC stage consisting of four thin quartz plates, the spectrum ranged from 960 nm to 1100 nm, supporting a transform-limited (TL) duration of 28.7 fs. More than 66% input pulse energy was converted to the coherent beam of broadened bandwidth. By using a programmable Fourier pulse shaper made of a 4-f system and a spatial light modulator, we successfully compressed the pulse to 29.6 fs.
The nearly TL pulse from the first MPC stage was sent into the second MPC stage consisting of seven quartz plates for further spectral broadening. Octave-spanning-spectrum ranging from 580 nm to 1250 nm (at -20 dB intensity level) emerged and the spectral phase was compensated by a second Fourier pulse shaper. Polarization-gating cross-correlation frequency-resolved-optical-gating (PG-XFROG) measurement showed that the compressed pulse width (FWHM) is 3.1 fs, ~0.91 cycle of the carrier at 1030 nm wavelength.
能得到「2018物理年會-優良壁報論文獎」這個獎項殊榮,首先要感謝我的指導教授楊尚達老師,在研究上給予耐心的指導以及對於實驗的細節能提供一針見血的建議。另外也非常感謝孔慶昌老師與陳明彰老師,兩位教授的寶貴意見與實驗器材的提供,才能讓這項計畫順利進行並完成。感謝志軒學長,帶領著整個計畫和實驗的執行才有如此豐碩且優異的實驗成果。接著是旆齊學長,也能在實驗上給予幫忙與意見交流,最後是我的研究夥伴為昕,透過彼此互相幫助才能順利完成實驗。